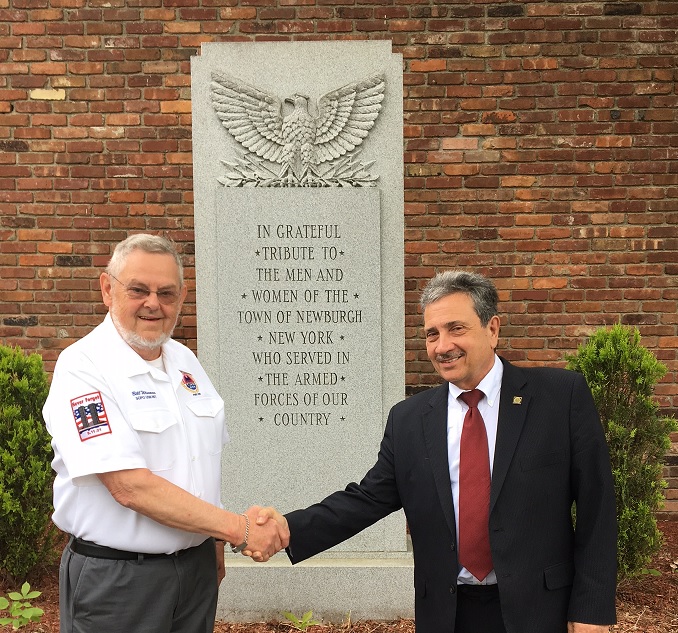 Town of Newburgh Supervisor Gil Piaquadio Congratulates Grand Marshal William Wiseman
TOWN OF NEWBURGH READY
FOR MEMORIAL DAY CEREMONIES
The long standing traditions of Memorial Day will be solemnly observed in the Town of Newburgh on Sunday, May 28.
Early in the morning, teams of persons under the guidance of our local American Legion post will be decorating local graves of veterans with American flags. This demonstrates our gratitude to those who sacrificed so that our nation can remain free.
At 10 a.m. a ceremony will be held at the Veterans Memorial at Newburgh Town Hall, which will involve wreath layings at the memorial. Participating will be the American Legion, the V.F.W., the Vietnam Veterans organization, AMVETS, our local Boy Scout troops, and our ladies auxiliaries.
The annual parade will step off at 1:00 sharp in front of the American Legion post headquarters on Union Avenue. It will proceed south to Route 52, then go east to Algonquin Park, and conclude at the reviewing stand on Powder Mill Road.
Leading the parade and saluting from the reviewing stand will be long time veterans activist and community leader William Wiseman, who was chosen as the Grand Marshal of the 2017 Memorial Day parade.
Memorial Day was founded soon after the Civil War to honor those on both sides of that conflict who had made the ultimate sacrifice. Soldiers graves were decorated with flowers and for that reason the holiday was called for many years "Decoration Day". May 30 was chosen to be the holiday because by that date flowers were in bloom in all states north and south. Beginning in 1971, Congress moved the holiday to the last Monday in May regardless of date.
####