THREE ACHIEVE THE EAGLE SCOUT OF HONOR
Release Date: June 12, 2017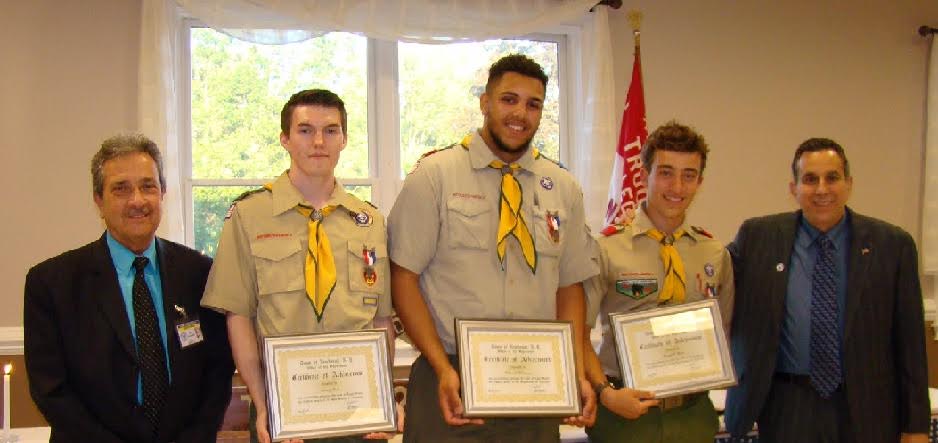 Pictured above are Eagle Scouts Andrew Burke (left), William McCartney IV (center), and Maxwell Marwin (right) along with Councilman Paul Ruggerio (far right), and Town of Newburgh Supervisor Gil Piaquadio (far left).
On June 9th 2017, an Eagle Scout Court of Honor ceremony was held to recognize Andrew Burke, William McCartney IV, and Maxwell Marwin as the newest Eagle Scouts. As recipients of Scouting's highest honor, these Scouts are leaders with scholastic and athletic achievements.
The Eagle Scout Service Projects completed include: The refurbishing of the bleachers at the Town of Newburgh Little League Complex by Mr. Burke, the re-shingling of roofs, re-painting of dugouts, and the building of a wall on one end of both dugouts at the New Windsor Little League Baseball Field by Mr. McCartney IV and the improving of the Snake Hill Cemetery and Crystal Lake of Newburgh by Mr. Marwin.
Town of Newburgh Supervisor Gil Piaquadio and Councilman Paul Ruggerio congratulated Mr. Burke, Mr. McCartney IV, and Mr. Marwin and their parents on this outstanding achievement.
# # #