NORWEGIAN AIRLINES FLIES AT STEWART AIRPORT
Release Date: June 16, 2017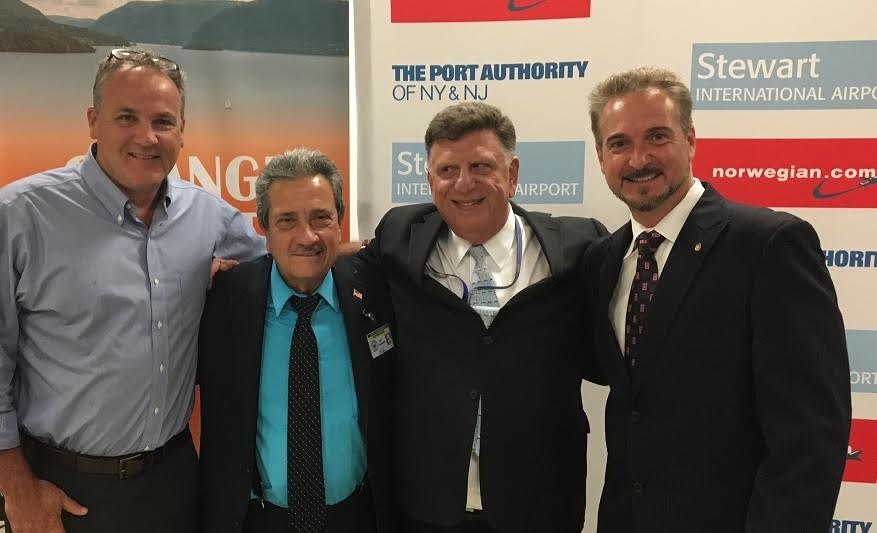 Pictured above are Airport Commission Member Paul Quartararo (left), Town of Newburgh Supervisor Gil Piaquadio (center-left), General Manager of the Port Authority of NY and NJ Ed Harrison (center-right), and Architect Joseph Minuta (right).
On June 15th, 2017, a ribbon cutting ceremony was held at Stewart Field to celebrate the debut of non-stop, Norwegian Airline flights to and from Stewart Airport and Edinburgh, Scotland. In July 2017, the airline will debut non-stop Norwegian airline flights to and from Stewart Airport to various locations in Ireland and Norway including: Dublin and Shannon in Ireland; Belfast, Northern Ireland; and, Bergen, Norway.
Norwegian Airline's new home in the Hudson Valley is exciting and opens up a new travel destination to United Kingdom and Irish travelers as well as offers low fares that lure travelers from across the country.
Town of Newburgh Supervisor Gil Piaquadio stated that having Norwegian Airlines at Stewart Airport "is big and will help the community."
# # #