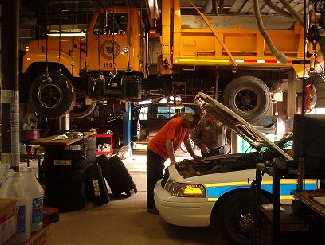 Town of Newburgh Fleet Maintenance
88 Gardnertown Road
Newburgh, New York 12550
845 561-2288
Since 1978 the Fleet Maintenance Department has been responsible for maintaining and repairing the Towns fleet of vehicles and equipment at the three bay garage located at the Highway Department complex on Gardnertown Road.
The experienced staff of five (experience ranging from 13 - 30 years) is on call twenty four hours seven days a week, to service the needs of all the town departments. There are over 200 vehicles in the fleet consisting of police cars, motorcycles, passenger vans, buses, large trucks, heavy equipment, tractors, mowers and even a police boat.